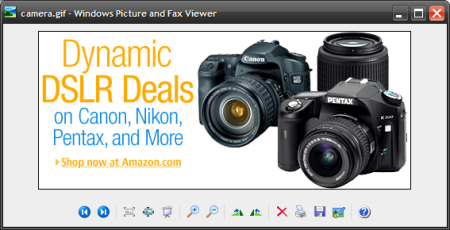 Windows Picture and Fax Viewer is one of the goodies that comes pre-installed with Windows XP. We, the folks at DailyGyan, simply love this piece of software. Why, you ask? Well that's because of its dead simple interface, absolute zero learning curve that's required and finally because of such a sweet and 'creative' name that Microsoft managed to give it.
Well, in today's Daily Feature, we give you some ways to super-charge your Windows Picture and Fax Viewer. Read along.
Create a shortcut to windows picture and fax viewer.
If you want to have a shortcut for the Picture and Fax Viewer, just like you have for other programs in your start menu or desktop, here is what you should do:


Right click on the folder you want to place the shortcut and select New –> Shortcut.
Type in rundll32.exe %SystemRoot%\system32\shimgvw.dll,ImageView_Fullscreen and hit enter.
Type in 'Windows Picture and Fax Viewer' as the name of the shortcut.
Right click the new shortcut and select Properties.
Click on 'Change Icon'. Type in %SystemRoot%\system32\shimgvw.dll and hit enter.
Select a suitable icon.

Now, if you double click on this shortcut, the Windows Picture and Fax Viewer comes up with the preview pane saying "No preview available". You just have to drag your photos to this pane to display them.


Change the slide show duration in Picture and Fax viewer.
You can have a slide show of all photos in a folder by opening any one of the photos and then clicking the 'start slide show' button (shortcut - F11). By default, the duration between changing the pictures is 5 seconds. Unfortunately, this utility doesn't expose any settings, by which the user can change this value of 5 seconds. This will require some tampering with the Windows Registry and for the faint of heart, we have also provided a utility which does this automatically for you.


In the Run dialog (Start -> Run), type regedit and hit enter.
Navigate to HKEY_CURRENT_USER\Software\Microsoft\Windows\CurrentVersion\Explorer\ShellImageView
Create a new DWORD (Right click and select New DWORD) with name as Timeout
Double click on this newly created DWORD and give a value you desire for the slide show duration as a millisecond value. For example, if you want a duration of 6 seconds between each photos, enter 6000 as the value (Remember to select base as Decimal).

Those who wishes to have a more simple and straight forward solution can download this little vbs script. On double clicking, it asks for the timeout seconds desired. Enter this value in the text box and hit enter. (Note: you need to enter the value in seconds and not milliseconds).


Convert Picture and Fax Viewer into an Image Editor.





One of the fields where our beloved tool fall behind is image editing. It does image displaying in a pretty much smart way but fumbles at the slightest request to edit some photos. Of course, you can rotate the image in what ever direction you want, but that's it. There is nothing more to be expected of it.
Well, that is not the case anymore. With a freeware called Photo Toolkit, you can extend the capabilities of Windows Picture and Fax Viewer to make it your dream photo editor.  You can get the features list here and download it here.
What other tips and tricks have you found about Windows Picture and Fax Viewer? Share with us in the comments.