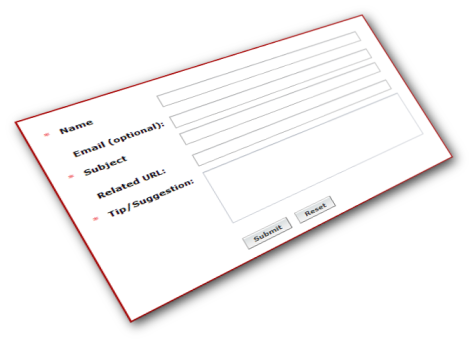 Blogging is all about connecting with your readers.
If you want to be a better blogger, you need to listen to your readers. You need to give them an opportunity to get in touch with you.
That's why it is important to have a 'Contact Me' page in your blog. A 'Contact Me' or 'Send Your Feedback' page not only makes your blog look professional, but will also make you understand your readers better, help you in getting a lot of tips from them and ultimately will make you a better blogger in the long run.
Unfortunately, a Blogger blogspot blog neither has a Contact-Me page out of the box nor any ready made Contact-Me widgets like the many plugins available in the WordPress arena.
But, have you seen our Send Tips page? It has been done using Zoho Creator. In today's post we teach you how to create a similar form for your blog. Read along.
To make a Feedback/Contact Me page for your blog, we are going to use Zoho Creator. Though there are multiple options available like response-o-matic, freedback, wufoo and google docs, we are going to use Zoho Creator. Why?
Because:
Zoho Creator is free
Zoho is a reputed company and will not burst in a dot com bubble any time soon.
No separate user account is needed. If you have a Google account (obviously, you do own a Google account if you are blogging in Blogger), then you can use it to log into Zoho.
The input form that you create is highly customizable. The flexibility in customizing the form is much greater than Google Forms. Hence you can easily blend this form with the rest of your blog.
You can configure Zoho to email you the contents that user submitted. Therefore, you don't have to login to Zoho's web site ever after.
Zoho provides many ready made scripts which provides many added functionality. Like for instance, if you have added an email field in the form, you can configure it to check whether the email that the user entered is a valid email or not.
Let's dive right in. Go ahead and watch this video.

Visti Zoho Creator and get started.

Doubts, questions, queries, suggestions? Post a comment.