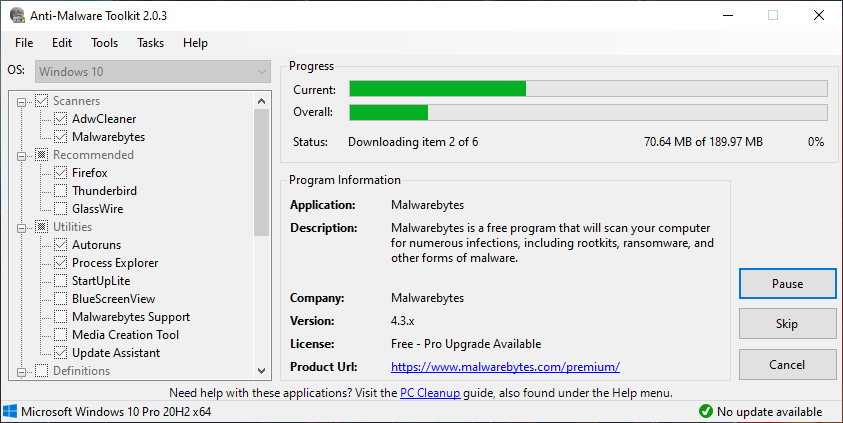 The first thing anyone should do after installing Windows is to install an anti-virus program. Then an anti-spyware program. Then a firewall. Then lot many other programs to protect yourself from numerous malwares that are floating around.
If this process is too tedious for you, then the program Anti-Malware toolkit is for you. This program is not an anti-malware utility as the name might suggest. But, it is a program that makes downloading all popular anti-malware programs a quick and easy process.
It downloads the most latest and greatest versions of all popular security applications like Spybot S&D, HijackThis, Autoruns, CCleaner,Avast, Comodo Firewall etc for you to install.
Of course, you can always go to the web sites of these applications and download them your self, but Anti-Malware Toolkit makes it a single-button-click affair.
Pros:
Freeware
Simple user interface
Identifies whether a program is incompatible with the user's operating system.
Runs on Windows: 98, 98SE, Me, 2000, XP, Vista, Server 2003 and Server 2008.
Cons:
Doesn't check whether any of the listed application is already installed in the machine.
No option to schedule downloads.
Doesn't actually install the downloaded applications.
Required .Net 2.0 framework